Acid League Global Warming Vol. 1 Launch
Tasked with creating promotional posts for the launch of Acid League's Global Warming Hot Pepper Sauces I created visuals to reflect the globally inspired and globally-minded product. These pepper Sauces focus on flavour first; whereas other hot sauces are aimed to be the hottest, hot pepper sauces highlight some of the creators favorite tastes from around the world. Working in a time where studios are difficult to access I had to adapt this campaign to work in a contactless setting. Working with provided product shots and stock imagery I needed to find a creative solution to promote these unique products. I decided that using a scrapbook concept was the best approach, it allowed me to highlight key tasting notes in the sauces as well as the cultural influence of the sauces.
Visual Communication, Branded Social Content, Promotional Media

Team: Acid Leauge
Designer: Alyshea Kara
Photographer: Rae Drake
Copy Writer: Charlie Friedmann
(2021)


Curry Favor melds the best of chutneys and hot sauce together, with ginger, garlic, mustard seeds, curry leaves, and a whole spice box more accenting green and red chilies. Brightness, bitterness, depth, and heat—all the hallmarks of a new flavor-tripping favorite.⁠
Bangkok Street Food features the signature flavors of Thailand—fish sauce (Red Boat!), chilies, and garlic—rounded out by rich honey.⁠
Sicilian Sunburn brings a mellow Mediterranean burn full of roasty tomato and garlic notes, fragrant herbs, and a finishing punch of heat and acidity.⁠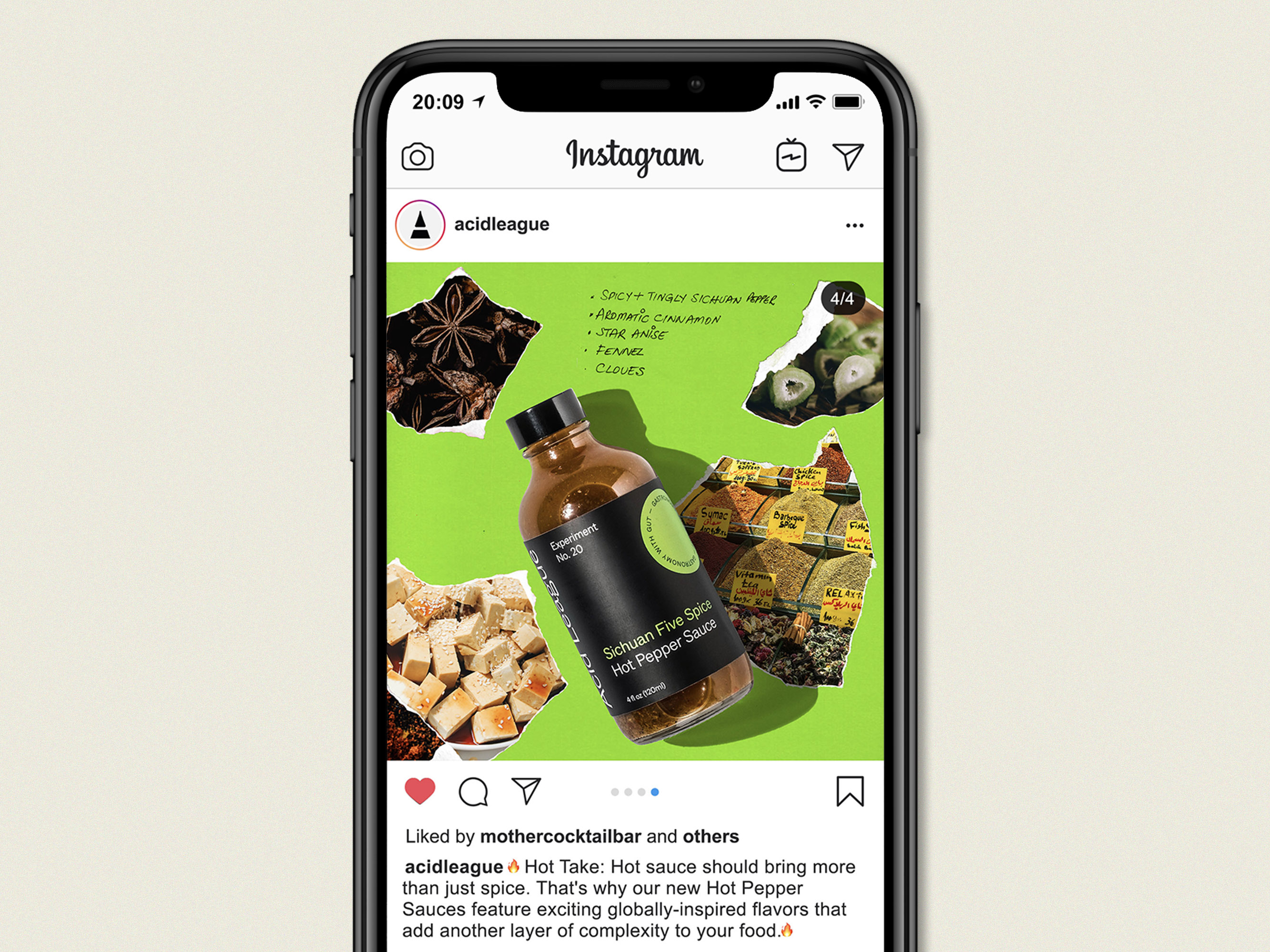 Sichuan Five Spice is bold and bracing, with a harmony of chili heat and numbing Sichuan peppercorn spice bolstered by aromatic cinnamon, star anise, fennel, and cloves. This isn't just hot sauce, it's a full-on flavor booster.⁠
Posts adapted to fit story format